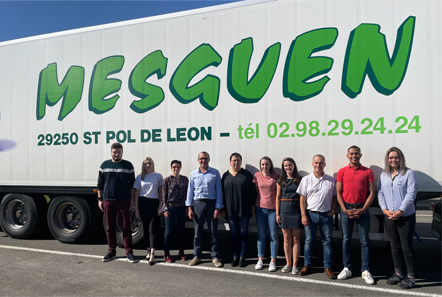 Transports Mesguen chose Conex solutions to create a post-Brexit Customs activity
Since Brexit became a reality, Transports Mesguen, an SME located at the northern tip of Finistère, has been using Conex solutions for clearing goods en route or arriving from the United Kingdom. A highly strategic step in the Supply Chain, especially for food, live and ultra-fresh products.
A strategic challenge
To adapt to Brexit, the SME of 50 million euros at the head of a national fleet of 150 lorries created a whole new 6-declarant-strong department from scratch at the company headquarters in Saint-Pol-de-Léon. This new Customs department has been equipped and trained in the new regulatory obligations related to transporting goods to and from Great Britain, and in Conex's specialised software: the France and United Kingdom Customs solution, - Management of customs procedures on both sides of the Channel - and the EU ICS and S&S GB modules for processing security declarations.
This new declaration activity has become a profit justifyand a competitive asset for Transports Mesguen. But in reality, the project to internalize customs and security declarations was also strategic for the company: the United Kingdom's share of turnover is 25% of the 50-million-euro total. However, a significant part of the movements concern ultra-fresh food products, vegetables, poultry and seafood products. In this Supply Chain which delivers products on D+1 most of the time, outsourcing declarations to a third party could have penalised its reactivity.
Philip Gac, general manager in charge of financial and HR for the company, initiator of the project, explains:
"Entrusting customs declarations to a third party is possible on paper, but in practice, it multiplies the number intermediaries, communication difficulties, and the risk of delays…. In the world of ultra-fresh transport, when the goods must be delivered on D+1 (we are talking about live crustaceans, in particular), the Supply Chain cannot suffer the slightest delay, otherwise the goods may be lost! Above all, we did not want our lorries to be blocked at the borders upon arrival in England or France!"
It's ancient history
Transports Mesguen has been developing transport services between the continent and the United Kingdom since the 1960s. But over the past thirty years, since 1993 with the United Kingdom's entry into the European Union, import/export formalities had disappeared.
Until we heard talk of Brexit. As a result, on January 1st, 2021, a department resurrected the service on brand new foundations: new regulations, new process, new team, new software... The context of political indecision and regulatory uncertainties surrounding the implementation of Brexit forced the SME to adapt, a push on the brakes then rapid acceleration, both in building up skills for its staff and for the implementation of software.
Conex has supported this Brexit project since the start, two years ago, and it is with the same determinat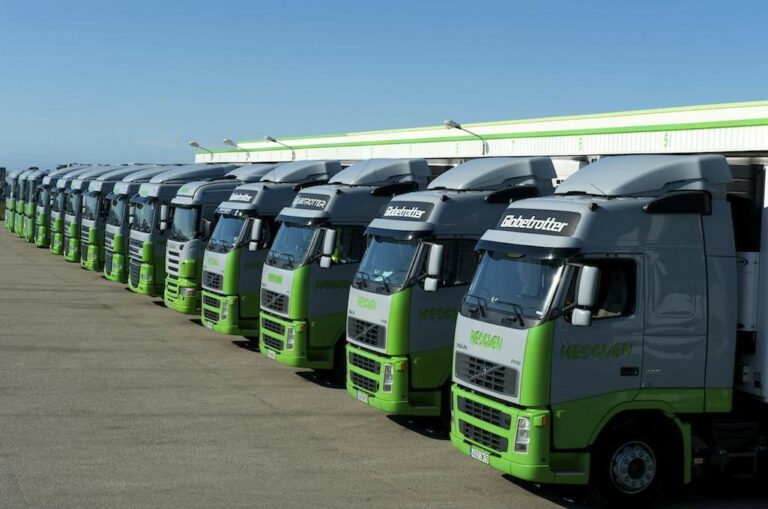 Collaboration with Conex
March 2019, the decision to commit to the organisation of an internal customs clearance service for movements to and from the United Kingdom is taken. They will need teams and software and Philip Gac, who has taken the initiative to run the project, approaches Conex: "Conex is the market leader, its reliability has been confirmed to me by several freight forwarders that I know. The overall project already included enough uncertainties, I wanted security with regard to the IT solution to be chosen. And the first contacts with the teams went well from the start. In addition, Conex had the clear advantage of offering the CUSTOMS via conex™ software which is connected to UK Customs (CHIEF, CDS). Thus, the information about the goods that we transport for our customers is entered and/or interfaced only once, either on the French side or on the UK side to be sent to customs on both sides of the Channel; they appear mirrored in the Conex solution on either side of the border without additional work."
Philip Gac estimates the need for 6 or 7 people for his customs team; but hiring, while Brexit is not yet a certainty, is a challenge. He then offered all the administrative staff the possibility of joining the future Customs department, which clearly meant training his staff in the new profession of customs declarant and, therefore, in the Conex tools. 8 people are on the starting blocks, this is enough to cover the needs of a service open from 7 a.m. to 10 p.m. 7 days a week. 3 people, including himself, start training in the spring of 2019, and will in turn train their future colleagues in the new department.
In parallel with the training, IT work is carried out to integrate the Conex tools into Mesguen's information system: this involves limiting manual entries by directly injecting the data already present in Mesguen's accounting and transactional tools into the heart of Conex interfaces. Philip Gac added: "This integration of Conex into our IT system went very well, and for our team it was really a condition for managing large volumes quickly and without the risk of error!
A thwarted launch schedule
Transports Mesguen is ready for Brexit and customs declarations. Except tha,t as we know, nothing is done on time, that one Brexit postponement follows another and that for the SME, they must remain on alert, careful not to forget anything that they had just learned but could not yet apply. So, they continue to train on fictitious datasets for two hours a week, while continuing their usual work as if nothing had happened...
Finally, September 2020, the approach of D-Day again becomes credible and imminent. They are back in pre-project mode: in September, two employees are seconded to the customs department on a half-time basis, then full-time in October. In mid-November, training sessions for processing customs declarations resume every day for all future declarants. The horizon line is getting closer. And on January 1st, 2021, the very first customs clearance declaration in the new post-Brexit customs system is completed successfully. "It was a lorryload of Scottish crabs that was to go to Spain. Live produce, of great value, a cargo of at least 100,000 euros to be processed urgently of course, which Transports Mesguen inherited almost at the very last minute."
The first weeks will be busy... Customers have not anticipated the new customs complexity, and are discovering on the job that Brexit has changed handling arrangements, that lorries are no longer allowed to cross the borders of England if customs formalities have not been completely cleared… Not to mention that live produce must also obtain health certificates.
Mesguen and its teams are in charge, recovering missing invoices, making dozens of calls to obtain missing information urgently, inputting and clearing customs with all their might... The first week will remain memorable, working from 8 a.m. to 2 am… In the end, the service is fully operational, Mesguen has set up a new activity based on Conex software, and developed its turnover, its teams have proven their ability to take on a memorable challenge and deliver!
About Transports Mesguen
For 70 years, the company has specialised in the road transport of foodstuffs (fruit, vegetables, seafood, etc.), fresh or frozen. It has a fleet of 85 refrigerated semi-trailer lorries. Among other things, Transports Mesguen ensures the transport of industrial products, with more than 75 semi-trailers. It also has several temperature-controlled storage warehouses. With multiple outgoing lines, it can respond quickly to calls in France and England. https://www.transports-mesguen.fr/
---
 PRESS CONTACT
AGENCE C3M - Michelle Amiard - michelle@agence-c3m.com